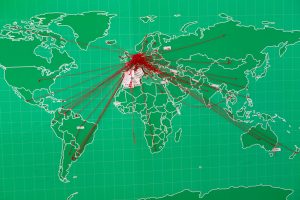 What is the economic future of Amsterdam? How can we foster an inclusive and sustaibale economy for all our citizens? 'Volksvlijt 2056' was a public exhibition on the economic future of the Amsterdam region, organised during the Dutch presidency of the European Union spring 2016. The People's Industry Palace was an initiative of Zef Hemel, professor of Urban and Regional Planning (Wibaut Chair) at the University of Amsterdam and member of the Centre for Urban Studies.
Urban regions are preeminent motors of economic development. Fruitful economic initiatives are born especially on occasions where entrepreneurs, research institutes, non profit organizations, students, artists, citizens and governments meet each other: platforms. These platforms are also called 'collaborative commons'. It is this exactly this kind of platform what 'The people's industry palace 2016' aims to be.  By bringing together people from different backgrounds and expertises, enabling them to share knowledge and build connections, urban future perspectives are developed which will boost a new economy in the city of Amsterdam.
Paleis voor Volksvlijt
Originally, 'Paleis voor Volksvlijt' was an initiative by Samuel Sarphati who, after having visited the Great Exhibition in London in 1851, set up the  Vereeniging voor Volksvlijt, and later on was the initiator for building the 'Paleis voor Volksvlijt', a Christal Palace erected at the Frederiksplein intended for idealistic and educational exhibits: "a temple dedicated to ingenuity and educational enrichment". Unfortunately, the Palace was burned in a fire in 1929.
Opening and events
'Paleis voor Volksvlijt 2056' was a public exhibition in the Public Libraby of Amsterdam (OBA), officially opened on April 12, 2016 by the Mayor of Amsterdam, Mr. Eberhard van der Laan. The palace could be visited 12 weeks long until July 4, 2016. During this period all the citizens were invited to participate in all kinds of events related to the economic future of the city of Amsterdam that were organized, ranging from a special primary school program, to workshops, to artist exhibitions, to PhD seminars.
Programme
Website (Dutch): www.volksvlijt.amsterdam
Contact
Please contact Zef Hemel, Zefhemel@hotmail.com in case you have any questions related to the project.