Gelezen in 'Odyssey. Pepsi to Apple' (1987) van John Sculley: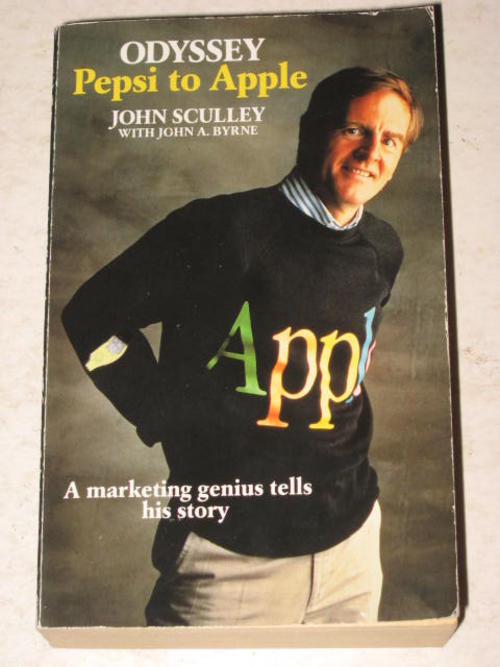 'Marketing genius' John Sculley beschrijft in 'Odyssey' de strategie van Apple op een kritiek moment. Midden jaren tachtig staat het jonge Californische bedrijf bijna op omvallen. De verkoop van de nieuwe Macintosh valt zwaar tegen. Er moet worden gesneden in de organisatie. Men blijft echter geloven in een maakbare toekomst. In hoofdstuk 9, getiteld 'On the Brink of Collapse', heet het: "More than anything, we believe that the best way to predict the future is to invent it. We feel confidence to shape our destiny." Zelfs in de crisis waarin het bedrijf verkeert is dit de instelling. Zou elke stad in de wereld dat maar zeggen. Of dit: "Let's say we stopped judging business and planning its future stricktly by the balance sheet. (…) Instead, let's look at the creative value of a corporation: how much of our revenue comes from product we didn't the year before? At Apple, we now get 30 tot 50 per cent of our revenue from products we didn't make a year earlier. You couldn't do that if you weren't a creative organization."  Niet van toepassing op de planning van steden? Sculley meent van wel. Zelfs landen zou je eraan moeten afmeten. De USA staat er, schrijft hij, wat de creativiteitsindex betreft ronduit beroerd voor. Het land wordt geregeerd door boekhouders.
In de meeste bedrijven probeert men vooruit te kijken. Echter, doorgaans bepaalt men dan, afgaande op de prestaties uit het verleden, waar het bedrijf naar toe moet. Bij Apple gaat het anders. Daar kijkt men ver vooruit en rekent dan terug, in kleine stapjes. Of het realistisch is doet niet ter zake. "Like science-fiction writers, we think of the crazy, totally impractical things." Sculley: "We create in our minds a visual portrait of what the economy, our industry, and our company will look like. Then we move back into the present, envisioning what we have to do in small steps to get to the future." Ondanks de moeilijkheden waarin het bedrijf verkeerde was men hierdoor in staat investeringen veilig te stellen die moesten worden gedaan om uit het dal te komen. De top van Apple had dit geleerd van de rector van Stanford University, Donald Kennedy. In de jaren '80 had deze ver vooruit gekeken naar 2020 om zich een voorstelling te maken van de kennisbehoefte tegen die tijd. Vervolgens had hij bepaald hoe hij elk jaar een stapje dichter bij dat toekomstbeeld kon komen. Voor een dergelijke planning zijn verschillende standpunten nodig en vragen die inzicht verschaffen. "We try to articulate the right questions, rather than get too hung up on the answers." Je niet opknopen aan één uitkomst of één product dus.  Het hele middenmanagement werd bij de oefeningen betrokken. De oefeningen gingen vergezeld van een duidelijke eigen identiteit en een vaste waardenset. Planning bij Apple werd daardoor een  flexibel, soms intuïtief proces van navigeren, in plaats van een set procedures op basis van trends of scenario's. "This measure of creativity becomes essential in planning for our future."  Steden zouden net zo moeten plannen: ver vooruit kijken en vervolgens terug redeneren. Wat moet ik doen om over veertig jaar daar te komen? De meeste doen het niet. Die vertrouwen op de boekhouders.
1 Response » to "Planning for the Future"